Thanksgiving Day, a cherished holiday celebrated with immense gratitude and joy, is a time when friends and families come together to express their appreciation for the blessings they have received throughout the year. It's a day of feasting, sharing, and giving thanks for the abundance in our lives. In this article, we'll explore the significance of Thanksgiving prayers and blessings, and how they contribute to making the occasion truly special. Check out the Thanksgiving Day Prayers and Blessings of Gratitude Here.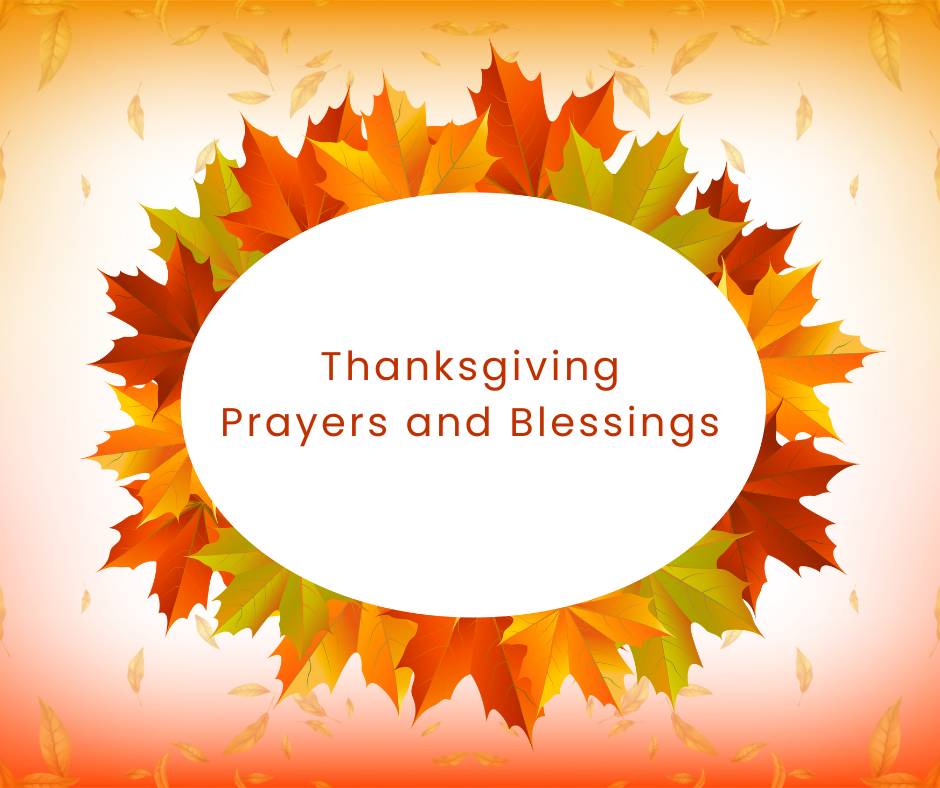 Thanksgiving Prayers
A Prayer of Gratitude Dear Lord, on this day of Thanksgiving, we bow our heads in humble gratitude. Thank you for the blessings you've bestowed upon us – for the love, the abundance, and the cherished moments with our loved ones. May our hearts remain open to the beauty in each day. Amen.
For Family and Friends Heavenly Father, we gather as family and friends to celebrate the gifts you've given us. Bless this time together, and may our bonds of love and friendship deepen. Thank you for the laughter, the shared stories, and the warmth that fill this room. Amen.
Blessing for the Feast Gracious God, as we gather around this table laden with food, we give thanks for the sustenance before us. Bless the hands that prepared this meal, and may it nourish our bodies and souls. In gratitude, we partake in your bounty. Amen.
Prayer for Those in Need Compassionate Creator, on this day of plenty, we remember those who are less fortunate. May our hearts be open to extending a helping hand to those in need. Grant us the compassion to make a difference in their lives. Amen.
A Prayer of Remembrance Loving God, we remember those who are no longer with us – whose presence we miss on this day. May their memories bring comfort, and may their love continue to guide us. We are thankful for the time we had with them. Amen.
For the Earth's Blessings Divine Provider, we thank you for the earth's abundance – for the fertile fields, the flowing waters, and the changing seasons. Help us to be good stewards of your creation, cherishing and nurturing it for generations to come. Amen.
Prayer for Unity Heavenly Father, as we come together from different walks of life, we ask for unity and understanding. Help us to see the common thread that binds us all and to appreciate the diversity that enriches our lives. Amen.
For Strength and Resilience Almighty God, we are thankful for the strength and resilience you've granted us through challenges and triumphs alike. May we continue to find courage in your presence and walk forward with unwavering faith. Amen.
Blessing for New Beginnings Gracious Lord, as we embrace the new opportunities that each day brings, we thank you for the chance to start anew. Guide our steps and fill our hearts with hope and optimism as we journey forward. Amen.
A Prayer of Hope Divine Source of Hope, as we gather to give thanks, we hold onto the promise of better days ahead. May our hearts be filled with hope for a world filled with love, compassion, and peace. Thank you for being our guiding light. Amen.
Thanksgiving Blessings
Blessing of Abundance May this Thanksgiving be a celebration of abundance – of the food that nourishes us, the love that surrounds us, and the blessings that enrich our lives. May we be forever grateful for the gifts we've received.
Blessing of Gratitude May our hearts overflow with gratitude on this special day. May we recognize the small joys and big blessings that grace our lives, and may our thankfulness bring us closer together as a family.
Blessing of Love and Unity May the spirit of Thanksgiving fill our hearts with love and unity. May we appreciate the time spent with family and friends, and may our connections deepen as we share in the joy of this day.
Blessing of Joy May the joy of Thanksgiving radiate from our hearts, lighting up our lives and those around us. May our laughter and smiles be a testament to the happiness we find in each other's company.
Blessing of Generosity May our hearts be open to giving as much as receiving. As we partake in the feast of plenty, may we also remember those who are in need and extend a helping hand to those less fortunate.
Blessing of Memories May this Thanksgiving bring cherished memories that we'll hold close to our hearts forever. May the moments shared around the table be etched in our minds as a reminder of the love we have for one another.
Blessing of Reflection May this day provide us with a moment to reflect on the past year – its challenges, its triumphs, and its lessons. May we move forward with renewed hope, knowing that every experience has shaped us.
Blessing of Togetherness May the bonds of family and friendship grow stronger on this Thanksgiving. May we relish the time spent together, creating new memories that will carry us through the year ahead.
Blessing of Peace May the peace that surpasses all understanding envelop us on this day. May any worries or concerns be set aside as we embrace the tranquility that comes from being surrounded by love.
Blessing of Hope May the spirit of Thanksgiving fill us with hope for the future. May we look ahead with anticipation, knowing that the blessings we've received are just a glimpse of the goodness yet to come.
Also Read: Happy Thanksgiving Day 2023 Quotes, Get the Famous Thanksgiving Quotes Here
In conclusion, Thanksgiving prayers and blessings infuse the holiday with a profound sense of gratitude and connection. They remind us to appreciate life's blessings, both big and small, and to share our joy with others. So, as you gather with loved ones this Thanksgiving, take a moment to offer a heartfelt prayer and embrace the power of gratitude.